Written By: Clarissa Mangaran
Have you considered what a life following Christ will cost you? We think about the things we will gain (i.e. eternity in heaven, forgiveness for our sins, etc), but have you ever stopped to consider all that we have to give up to really experience a walk with Christ to the fullest? 
In Luke 14:25-33 we see Jesus tell His disciples to consider the cost of being His disciple. He says,
"If anyone comes to me and does not hate father and mother, wife and children, brothers and sisters – yes, even their own life – such a person cannot be my disciple. And whoever does not carry their cross and follow me cannot be my disciple."

Luke 14:25-33
I don't know about you, but I read those heavy words and I'm so glad I don't live in a time where crucifixion is still practiced! Of course Jesus is not actually expecting us to hate our family but He does want our love for Him to be so rich that in comparison, our love for our family cannot be compared to our love for Him. He wants to be first in our life. He's jealous for us, as a husband wanting to be longed for by his wife. But putting Him first in this way will mean surrendering some things we may not yet be ready to let go of.
What does it mean to surrender your life to God? Surrender is defined as: "to yield to the power, control, or possession of another upon compulsion or demand". This presupposes that there is a fight against coming under God's control. If you have not fully surrendered your life, it means you're fighting God over those areas in which you're unwilling to allow Him full control.
After several years of walking with the Lord, I was more than willing to surrender the sins I was struggling with. My struggle with drinking, drugs, and sexual addiction were relatively easy to surrender to God because I hated them and wanted freedom in those areas. I had no problem asking God to take them away and help me break the chains that had me tied to those things. But a few years ago, God asked me to surrender my marriage to Him and confess some hard truths to my husband. The enemy was quick to whisper lies into my ear. "You'll lose everything. He'll leave you. You'll lose your kids. You'll be penniless and homeless. He'll never forgive you. He'll hate you." But the Holy Spirit was whispering too. "I've got you. I'll take care of you. It's time."
I had to decide in that moment that my obedience to God was more important than my perceived control over my marriage. I had to decide to trust God's plan for my life. I had everything to lose. But God. When I fully surrendered and confessed to my husband, the first words out of his mouth were, "I forgive you. I'll never leave you." It was in that moment, when I fully surrendered to God's will that I witnessed a miracle. Fast-forward a few years and our marriage is the most intimate and strongest it has ever been!
I'm beginning to understand that it's not actually the sins that are the hardest to surrender to God, it's His blessings. God gives us a spouse and we put our spouse and marriage above God. God blesses us with children and we spend so much time fussing over them and forget who they really belong to. God blesses us with finances and we make an idol out of money, unwilling to tithe because we need to hold onto as much money as possible to "secure our future"; we sacrifice time with family in order to work longer hours to make more money. He gives the gift of beauty or talent and it becomes how we define our worth, a slave to the whims of the opinion of others.
I'll be honest, as hard as it was to fully surrender my marriage to God, I am struggling with fully surrendering my children to God. I honestly thought I fully trusted God with my kids, but as I prayed for God to reveal to me any area in which I was not giving Him full control, He helped me face a hard truth. I don't fully trust God to protect my children. Ouch. Now that I'm aware of it, I am leaning on the Lord to help me surrender one of the biggest blessings He has ever given me. It's not easy, but He is so faithful to gently guide me through this journey.
God wants us to give the sins, the blessings…..everything over to His control in full faith that His Word is true. His Word says that He is our Redeemer, Savior, and Protector. He is the source of our life, identity, purpose, safety, victory, and freedom. He is the beginning and the end, the Mighty One, the Most High, and the Anointed One. He is faithful to keep His promises, uses all things for His good and perfect plan. Through Him we find peace, joy, hope, forgiveness, salvation, and grace. He is patient and kind, loving and gentle. Because of Jesus we have a guarantee into eternal paradise in His presence, an intimate relationship with Him and those around us in heaven!
So what are some of the trade-offs you get when you "pay the cost" and surrender your life to Jesus?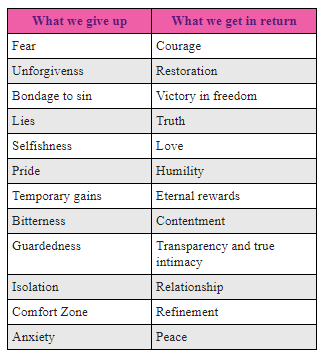 The list goes on and on. Sometimes what we need to surrender is simply the timeline and the place in which God is developing your faith and character. Sometimes it is at home, with the kids, cleaning up the toys, cooking dinner, doing the laundry where God is doing His greatest works on your heart and mind. Sometimes it's at that job, where no one notices anything you do or appreciates any of your hard work. Sometimes it's in singleness when you have the gift of more time and lack of familial responsibility. 
When Jesus, who also developed in obscurity, started His ministry people asked, "Nazareth! Can anything good come from Nazareth?" Or David who was anointed king, then immediately sent back to the field to continue shepherding sheep, where he learned how to play beautiful music and protect and lead his flock when no one else was looking. All of those skills would be the very things he would need to one day be king of all of Israel, and the one God called "a man after my own heart".
Considering everything we need to give up and all that we gain in return, the simple but difficult question is, do you trust God enough to surrender every part of your life, fully and without delay? Ultimately, we need to decide is He worth the cost?
Written By: Clarissa Mangaran