Written By: Ashley Elliott
Our family recently went on a long hike where the name of the game, to keep the kids moving, was Distraction! If their minds were busy thinking or singing, then they couldn't dwell on being tired. We played some rounds of Categories where the leader chooses a topic, and then we go 'round and 'round, sharing something that fits in the category without repeating one another. One category, in particular, was "things on your Thanksgiving dinner table." Yum! As we ping-ponged all of the tasty traditional Thanksgiving day foods, my mind wandered onto other Thanksgiving traditions. What are the traditions that your family holds for this holiday every year? Are these from when you were a kid or did you start this in your adult life?
When my eldest daughter was two, I started a "thankful tree." Shortly after we moved into a new house, I painted a tree mural on the wall in her bedroom for décor, and from there, the idea came to cut out leaves and make the mural look festive for fall. On the eve of Thanksgiving, I wrote precious things I was thankful for on tons of colorful paper leaves and stuck them all over the tree for my daughter to find on Thanksgiving. The following year required a bit more work as I had a one-year-old as well at the time, but just the same, I cut out a stack of leaves to stick onto the wall to give my girls a visual of what I was grateful for. Two years ago, I changed up the tradition and decided to stretch the idea to a month of thankfulness, where I would add one new leaf each day, starting with November 1st. I center my thoughtfulness and prayer on one leaf each day until Thanksgiving day when the tree is full.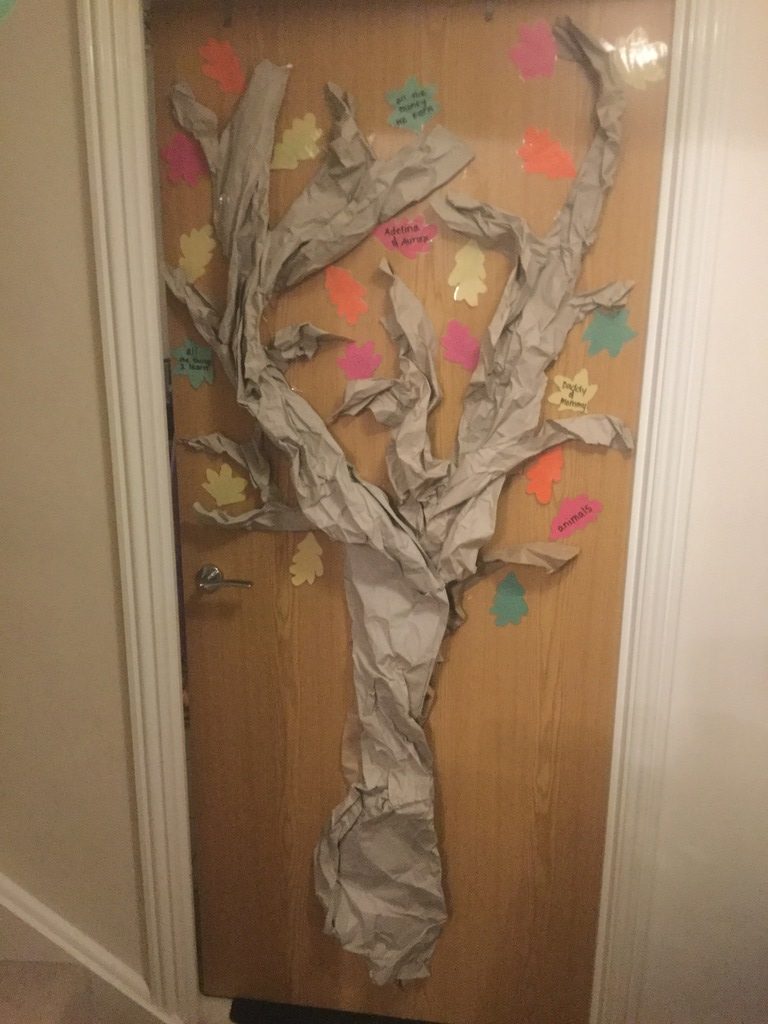 Although we have already passed the first day of the month, I challenge you to start today with dedicating your day to one thing you are thankful for and putting it to paper: a post-it note on your kitchen cabinets, a whiteboard in your office, a prayer journal, or your daily planner.
I say, "go the full monty" and make some leaves for a thankful tree. A poster board, a window, a bedroom door, or an artificial plant would all make the perfect "tree." Thanksgiving is about so much more than prepping and indulging in food, so let's re-center our family with a visual of our grateful hearts. Each day set aside a leaf for prayer and give thanks to God to invite His presence into your heart. Our daily praise and thankfulness will redirect our attention off of our problems and chaos and onto our Provider. It is a refreshing reminder of the goodness we are surrounded by and allow us to reflect deliberately. Know that no "thing" is too little to be thankful for. Often, on the contrary, it can be the little things that we overlook that can add up to the be the most significant.
The perfect place to study thankfulness in the Bible is the book of Psalms. Take your highlighter to Psalm chapter 118 and Psalm 136 and highlight the word "thanks".
Here are twelve other favorite bible verses on thankfulness to bookmark:
"Give thanks to the Lord, for he is good; his love endures forever." 1 Chronicles 16:34
"Oh give thanks to the Lord, for he is good, for his steadfast love endures forever!" Psalm 107:1
"I will give thanks to you, Lord, with all my heart; I will tell of all your wonderful deeds." Psalm 9:1
"Enter his gates with thanksgiving, and his courts with praise; give thanks to him and praise his name!" Psalm 100:4
"But thanks be to God! He gives us the victory through our Lord Jesus Christ." 1 Corinthians 15:57
"Give thanks in all circumstances; for this is God's will for you in Jesus Christ." 1 Thessalonians 5:18
"Let the peace of Christ rule in your hearts, since as members of one body you were called to peace. And be thankful." Colossians 3:15
"And whatever you do, whether in word or deed, do it all in the name of Lord Jesus, giving thanks to God the Father through him." Colossians 3:17
"Devote yourselves to prayer, being watchful and thankful." Colossians 4:2
"I thank Jesus Christ our Lord, who has given me the strength, that he considered me trustworthy, appointing me to his service." 1 Timothy 1:12
*Revelations 7:12 – Pray: "Praise and glory and wisdom and thanks and honor and power and strength be to our God forever and ever. Amen!"
*Revelations 11:17 – Pray: "We give thanks to you, Lord God Almighty, the One who is and who was because you have taken your great power and have begun to reign." 
Just as Jesus gave thanks before he broke bread with His disciples, say a blessing before you receive your nourishment as well. Thankfulness will open up the door to receive all that our God has in store for us. Let's set our eyes, ears, and hearts on Him – for all that He is, all that He has given, and all that He does. 
It's easy to fall into the trap of the "not enough" mindset. Do you recognize what that trap looks like in your life? Perhaps for you, it's not smart enough, not fit enough, not patient enough, not spontaneous enough, not loving enough, not reaching out enough, not attentive enough, not helping enough, not reading enough, not busy enough, not GOOD enough. Woo! Enough!
Don't go down that rabbit hole! Whatever your "not enough" is, know that you are not alone. We all want so much to be enough. Let's not try to mask this or cover this up, but rather let this be the reason we stay connected to the vine. God does not want us to be independent of Him, so do not exhaust yourself trying to do what you have been called to do without Him. Whether we need hope and encouragement through a tough time, stillness and grace in a turbulent time, or perseverance and strength through a trying time, the incredible power of God is enough. 
"I am the true vine, and my Father is the gardener." John 15:1. 
His care and goodness will provide love, understanding, and mercy. His grace will fulfill what we cannot, AND it will never leave us. WE. ARE. BLESSED. Feel your spirit renewed this season and refresh yourself with a sense of peace and joy that comes from God. Remember Philippians 4:6-7 "Do not be anxious about anything, but in every situation, by prayer and petition, with thanksgiving, present your requests to God. And the peace of God, which transcends all understanding, will guard your hearts and your minds in Christ Jesus." You are not alone, you are guarded, and God is still at work, my friends, so let us give thanks.
I would love to hear about the traditions your family holds for Thanksgiving in the comments below.
Written by: Ashley Elliott